Valdosta Workers' Compensation Attorneys
Dedicated Representation of Georgia's Workforce
Accidents on the job can cause more difficulty for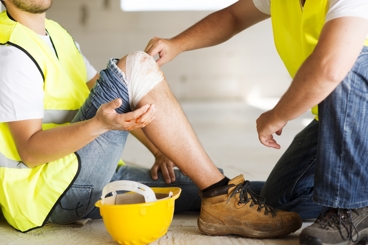 an employee and their family than any other type of personal injury case. Employees can fear the response of their employer after a workplace injury. Ultimately, they are concerned about possibly losing their job. Experienced workers' compensation attorneys know how to help injured employees navigate the complex claims process and have the best chance at recovering relief and keeping their job.
Have you been seriously hurt on the job? Our Valdosta workers' compensation lawyers can assist you. Call Studstill Firm, LLP at (229) 515-8900 today.
Understanding Workers' Compensation
In Georgia, an injured worker cannot sue his or her employer for injuries on the job. The only recourse is to use the workers' compensation system administered by the State of Georgia Workers' Compensation Board. It functions as a court system for injured employees.
However, the workers' comp system is designed to help employees get the medical care they need and return to work. It is not designed for settlement of claims. Having an experienced workers comp lawyer on your team will help you get the most out of the workers' comp system—both in terms of medical treatment and compensation.
Is the Workers Comp System the Only Option?
There are certain situations where an employee injured on the job has other options open to him or her other than the workers' comp system. For example, if a person working for another company causes or contributes to the employee's injury, the injured employee may be able to file a claim against the other person or company. This is known as a third-party liability claim.
Another example would be where an employee is utilizing a tool or device or piece of machinery that fails to work as it should (i.e. it is a defective device) and the employee gets injured as a result of that failure. The employee would be able to bring a claim against the manufacturer and potentially others responsible for that machine or device.
These are not the only two scenarios where an employee is not limited to a workers' compensation claim only, but they are by far the most common. By thoroughly investigating your workplace accident, the Valdosta workers' compensation attorneys at the Studstill Firm, LLP can determine who is responsible, and help you obtain full compensation for your personal injuries or even the wrongful death of a loved one.
Representing Injured Workers in Comp Claims
An on-the-job injury can occur in any setting. While catastrophic injuries are more common at workplaces that require physical labor (e.g. warehouses, construction sites, and factories), injuries also routinely occur in office settings.
Some of the most common workers' comp claims we handle involve:
Construction site accidents, including falls from high places and being crushed by heavy equipment
Warehouse and factory accidents (explosions, falling objects)
Exposure to toxic chemicals (asbestos, mold, paint, mercury, hazardous materials, toluene, benzene, hazardous waste, pesticides, PCBs and other dangerous substances)
Dangerous tools and equipment (defective saws, power tools, presses, cranes, machinery, and other heavy equipment)
Scaffolding and ladder falls
Slip and fall or trip and fall
Truck accident or car accident (traffic accidents while driving a delivery truck, company car, or a personal vehicle for business purposes)
Repetitive motion injuries (carpal tunnel syndrome, and shoulder or back injuries)
Determining the cause of your injury is crucial to recovering full compensation. If you've been injured in the workplace and are struggling to get fair compensation, then it is important to contact an experienced workers' compensation attorney. At Studstill Firm, LLP, our legal team has extensive experience handling these types of injury claims and is prepared to fight for you.
How Do You File a Workers' Compensation Claim?
If you were injured at work, or a family member died in a work-related accident, you need a lawyer who will protect your interests and obtain full compensation for your injuries. In workers' compensation cases, most employees have one year from the date of injury to file a claim, but there are many exceptions to this rule that can change the time limits. It is important to speak with a workers' comp lawyer soon after your injury to help you determine what time limits apply in your case and the best way for you to proceed if you hope to be able to keep your job.
---
Client Testimonial
5 / 5 stars
"Everyone in the office was very friendly and quick to return emails and phone calls. Danny Studstill was very helpful at explaining the paperwork. Great firm! Highly recommend!"
- Lindsi
---
At the Studstill Firm, LLP, consultations are always free and all of our cases are handled on a contingent fee-- this means there are no attorneys' fees or expenses until there is a recovery. We represent individuals and families across South Georgia in workers' compensation cases and are ready to ensure your claim compellingly puts forth your eligibility for relief.
We're ready to start this process with you today. Contact us at (229) 515-8900 to request a free, no-obligation case evaluation with an experienced workers' compensation attorney.
"From the beginning I have been treated as a member of the "family.""

- Jenny

"Would highly recommend their services to anyone!"

- Don & Kelli

"Went above and beyond to make us feel like family and secure"

- Rachel
Contact us for a
Free consultation
(Your email will go directly to our attorneys)
We Will Make The Difference
Millions Recovered For Our Clients

Client-Focused & Results Driven

Committed & Passionate Advocacy

Personalized Attention & Carefully Curated Legal Plans